In an era where technology significantly influences business operations, it's not hard to fathom why a proficient IT team has become an indispensable asset for companies. Hiring IT personnel and entrusting the job to an IT staffing company is a decision many companies grapple with. This article seeks to explain why an IT staffing agency might be your best choice.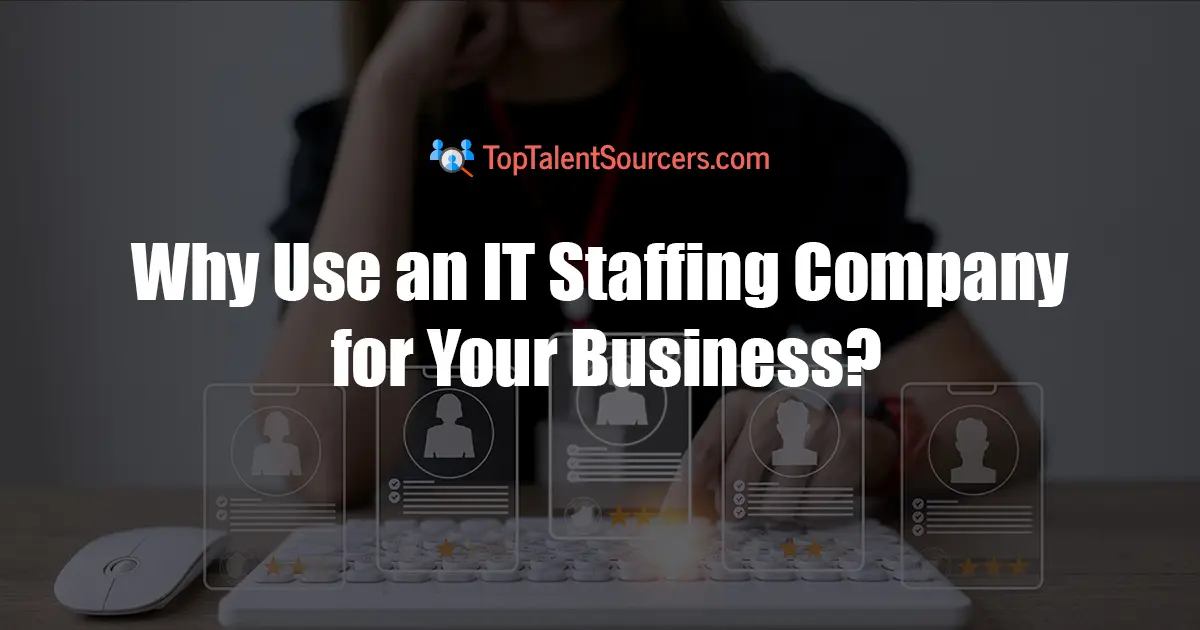 Understanding Remote IT Staffing Companies & Services
In the interconnected, digital age we live in, remote work and virtual teams have become increasingly popular. Remote IT staffing companies have emerged in response to this trend, providing businesses with access to a global pool of IT talent. But what exactly are these agencies, and what services do they offer? Let's delve deeper into understanding remote IT staffing companies and their services.
What Is a Remote IT Staffing Company?
A remote IT staffing company is specialized recruitment agencies that focus on sourcing and placing IT professionals in remote roles. These agencies leverage the global nature of the IT industry, tapping into a worldwide talent pool to help businesses build capable and efficient remote IT teams.
In essence, remote IT recruitment companies act as a bridge, connecting businesses with the skilled IT professionals they need, irrespective of geographical boundaries. They eliminate the constraints of location, allowing businesses to hire the best talent from anywhere in the world.
For businesses that might not be ready to commit to a full-time executive but recognize the need for leadership, considering a cto for hire can be the perfect middle ground. Such arrangements offer the strategic insights of a seasoned professional on a flexible basis, marrying adaptability with expertise.
What Services Do They Offer?
Remote IT staffing companies provide a range of services tailored to suit the diverse needs of businesses. Here are some key services these agencies typically offer:
Contract Staffing: This involves providing IT professionals with temporary assignments. IT contract staffing service is ideal for businesses that need extra help for specific projects or during peak work periods.
Permanent Staffing: If a business is looking for long-term employees, permanent staffing is the service to opt for. The outsource hiring company manages the entire hiring process, from sourcing candidates to initial screening, until the right candidate is placed in a permanent role within the client's organization.
Contract-to-Hire: This is a hybrid of contract and permanent staffing. It allows businesses to hire IT professionals on a contract basis initially, with the potential to offer them a permanent role after assessing their performance and fit with the organization.
Project-Based Staffing: In this case, the agency provides a team of IT professionals assembled specifically to complete a particular project. The team is disbanded upon project completion.
Remote Team Building: Remote IT staffing companies can also assist in building entire remote teams. They take care of hiring each team member and ensuring that the team has all the necessary skills to complete the tasks at hand.
How Can They Benefit Your Business?
Remote IT staffing companies offer several advantages. They can help businesses save time by taking care of employee staffing. They have access to a vast network of IT professionals, enabling them to find candidates with the specific skill sets required. This also results in faster hiring, which can be crucial for IT projects with tight deadlines.
If you are looking for profile specialists such as Fintechs, Biotechs, EdTechs, etc, you can be sure to get the right candidate with the help of high-quality employee staffing services. It saves you money, time, and effort in looking for a perfect candidate through your in-house HR workers. Talent acquisition recruiters will do their best to satisfy your recruitment needs in the shortest terms!
Moreover, they can help businesses save money. Hiring remotely means businesses can save on overhead costs associated with maintaining physical office space. It also means they can access talent in regions where the cost of living, and therefore salary expectations, might be lower than in their local market.
Peculiarities of IT Staffing Agencies
IT staffing company distinguishes itself with its global reach and extensive network of IT professionals. These agencies have their fingers on the pulse of the IT job market, keeping tabs on the movement and availability of IT talents. Remote IT staffing services extend the boundaries of hiring, making it possible for businesses to recruit IT professionals from any part of the world.
In-house Recruitment Vs. Remote IT Staffing Company
In the context of hiring IT professionals, businesses are often torn between in-house recruitment and using remote IT staffing services. Both methods have their merits, but they also have their fair share of drawbacks. Let's delve into the differences between these two recruitment models and explore why you might prefer one over the other.
In-house Recruitment
In-house recruitment is the traditional model of hiring, where the company's human resources department handles every aspect of the recruitment process. This includes advertising job vacancies, sorting through applications, conducting interviews, negotiating salaries, and finally onboarding new hires.
This method allows the company to maintain complete control over the hiring process. The HR team has an intimate understanding of the company's culture, goals, and needs, which can lead to better candidate-company fit in the long run. The in-house recruitment process is also more transparent, as there are no third parties involved.
However, there are a few downsides to in-house recruitment. First, it can be time-consuming, especially for specialized roles such as IT positions. The HR team may need to sift through hundreds or even thousands of applications, conduct multiple rounds of interviews, and negotiate employment terms. Additionally, in-house recruitment can be costly. Apart from the direct costs associated with advertising job vacancies and the time spent on recruitment activities, there are also the hidden costs of vacancies remaining unfilled for extended periods.
Remote IT Staffing Company
On the other hand, a remote IT staffing service offers a different approach. These agencies specialize in sourcing IT professionals for businesses. They have an extensive network of candidates, both locally and internationally, and can streamline the hiring process to fill positions more quickly.
The key advantage of using remote IT staffing services is that they take care of all aspects of the hiring process, freeing up your internal team to focus on other critical business functions. They can access a larger pool of candidates, many of whom may not be reachable through traditional job postings. This can be particularly valuable for IT roles, which often require highly specialized skills.
Furthermore, remote IT staffing agencies can provide more flexibility. They can cater to various hiring needs, whether it's a temporary position, a permanent role, or an entire team for a specific project. This versatility can be particularly beneficial for businesses with fluctuating IT needs.
However, one potential downside of using remote IT staffing services is the perceived lack of control over the recruitment process. Some businesses may feel uncomfortable outsourcing this crucial function and fear that the agency may not fully grasp its unique needs and culture.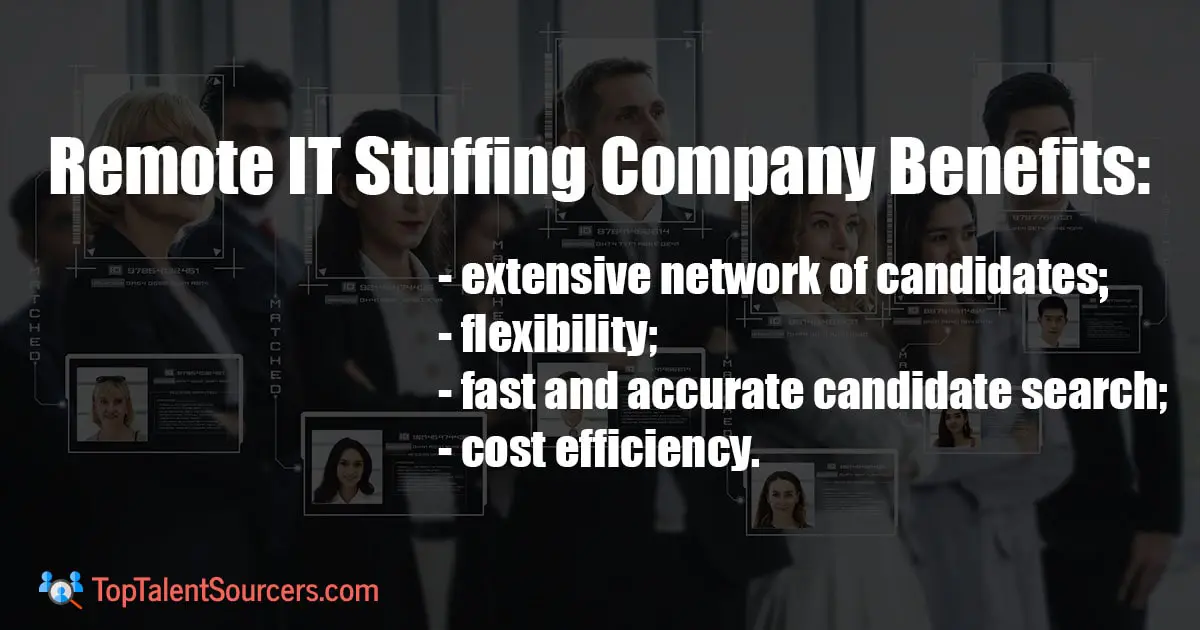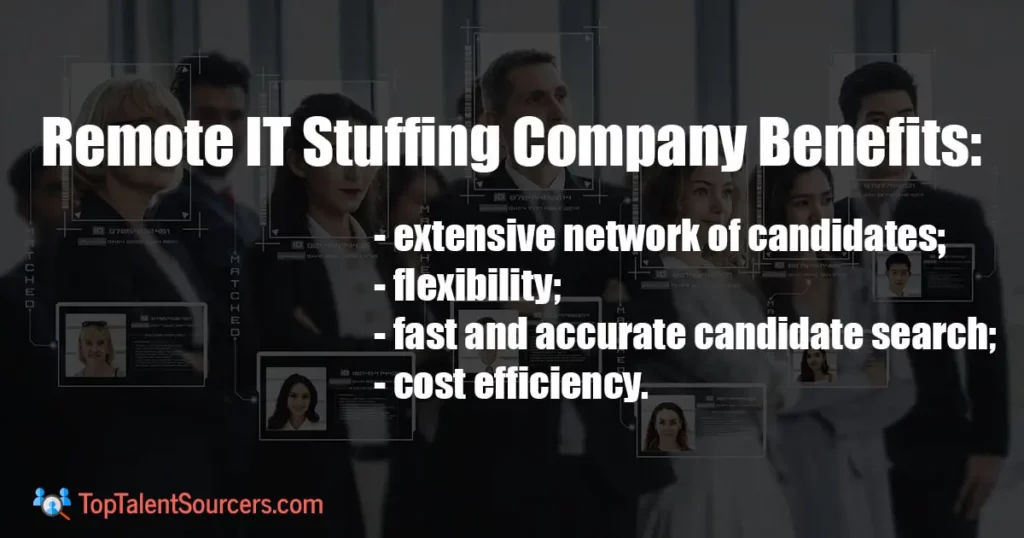 Is It Worth It to Use a Staffing Agency?
The answer to whether in-house recruitment or remote IT recruiting is better largely depends on your business's specific needs. If you require highly specialized IT professionals, need to fill positions quickly, or have fluctuating IT recruiting needs, a remote IT staffing company could be the ideal solution. However, if you prefer to maintain complete control over the recruitment process and have ample time and resources to dedicate to it, in-house recruitment may be the way to go.
In summary, both in-house recruitment and talent sourcing outsourcing have their benefits and drawbacks. The right choice will depend on your business's unique needs, resources, and goals.
Why Consider a Ukrainian IT Staffing Company?
Ukraine has progressively risen to be one of the most popular destinations for IT recruitment, courtesy of its thriving IT sector. Ukrainian IT professionals are known for their proficiency, and their diligent work ethic has earned them global recognition. A Ukrainian IT staffing company grants businesses access to this vast pool of IT talents, offering them the freedom to hire without geographical restrictions.
At this point, you may still be pondering, "Is it worth it to use a staffing agency?" To answer this, let's explore the benefits of IT recruiting and see how they can amplify your company's strengths.
TopTalentSourcercs IT Recruiting Benefits
IT staffing agencies provide businesses with quick access to a vast pool of talent. This means that businesses can ramp up their IT team at a moment's notice in response to business needs. With an IT staffing company at your disposal, you have the flexibility to tailor your IT team to suit your changing requirements. This adaptability to change, fueled by the ready availability of IT talents, makes your business more resilient to market fluctuations.
TopTalentSourcers: The Premier IT Staffing Company in Ukraine
We are renowned for providing businesses with unparalleled IT staffing services, both within Ukraine and internationally. Their wide array of services includes financial tech recruiting, employee staffing, IT contract staffing services, and other staffing IT services designed to cater to the unique needs of every business.
Grow Your Business with a Leading IT Staffing Company
Having recognized the benefits of an IT staffing agency, wouldn't you want to seize this strategic advantage for your business? Contact TopTalentSourcers today and enjoy premium IT recruiting services that put your needs at the forefront.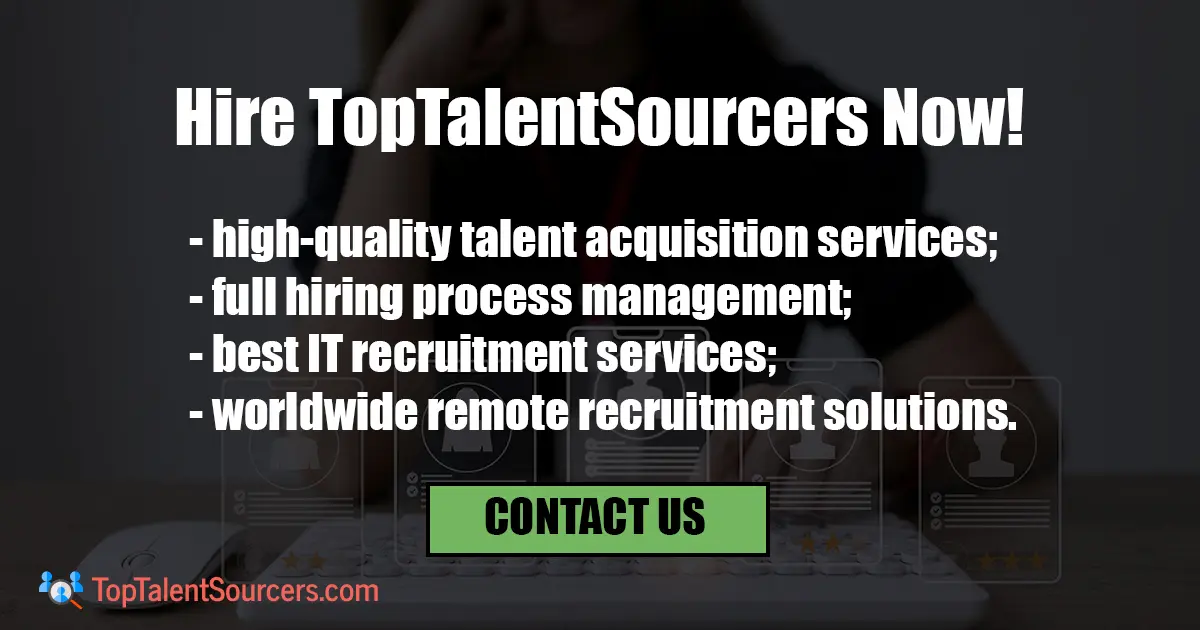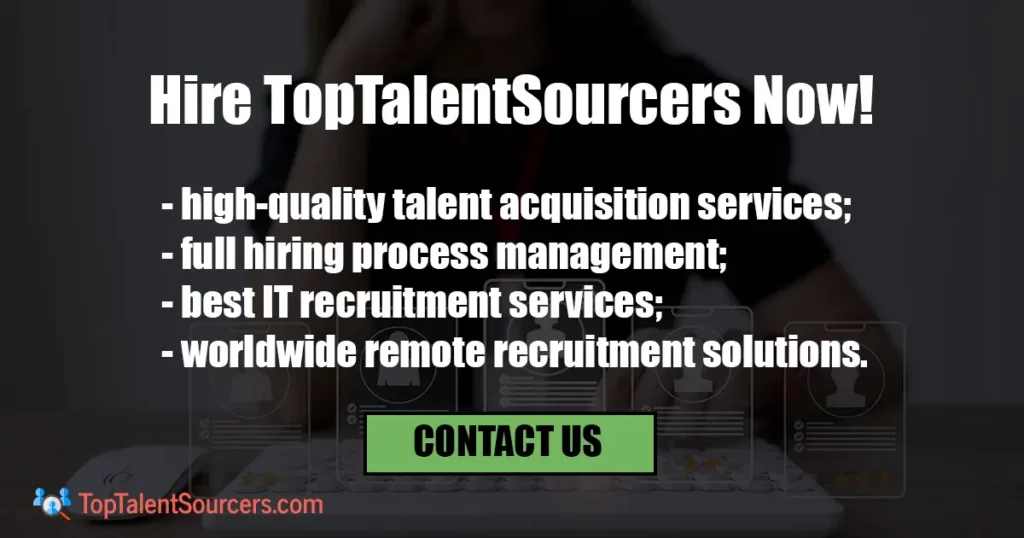 Conclusion
In the technology-dominated business world, a proficient IT team is not just a resource; it's a strategic advantage. By opting for an IT staffing agency, you're not just choosing a solution for your IT recruitment needs; you're choosing a strategic partner who can provide you with the IT talents you need to thrive in a competitive market. Professional recruiting services are an essential part of any modern and successful business, so don't hesitate to trust the process to the top-notch specialists! With an IT staffing agency, you get more than just recruitment services; you get a partner who understands your vision and provides you with the IT talents to achieve it.
FAQs
What is an IT staffing agency?
An IT staffing agency is a recruitment agency that specializes in providing businesses with skilled IT professionals. They offer a variety of services, including temporary staffing, permanent placement, and project-based staffing.
What are the benefits of using an IT staffing agency?
The benefits of using an IT staffing agency include quick access to a large talent pool, cost savings, increased flexibility, and time savings. It allows businesses to focus more on their core operations, with the confidence that their IT recruitment is in competent hands.
Why consider a Ukrainian IT staffing agency?
Ukrainian IT professionals are highly sought after for their skills and work ethic. By choosing a Ukrainian staffing agency, businesses get the opportunity to recruit these top talents without any geographical limitations.
Is it worth it to use a staffing agency?
Yes, using a staffing agency offers businesses several advantages, such as access to a large talent pool, cost savings, time savings, and increased flexibility. It's a strategic move that can significantly enhance a business's competitive edge.
What services does TopTalentSourcers provide?
TopTalentSourcers offers a variety of IT staffing services, including employee staffing, IT contract staffing, and remote IT staffing services. They are committed to providing businesses with IT talents that match their unique requirements.